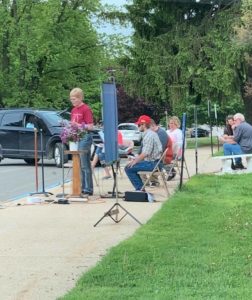 Fun and worship during a tough time
The Covid-19 pandemic has been a challenge for all churches. St John Lutheran church in Farmersburg has met this challenge by partnering with St John in Luana to hold Drive-In services. These outdoor services have kept parishioners safe while allowing us to worship and to have a little fun along the way.
Folks follow along with the service in their car radios by listening along at 89.3 FM or by opening a window and hearing the broadcast on the loudspeaker. We even started a new tradition of honking horns in place of the church bells as worship concludes. God uses challenges to bless us and this has been a great solution for an uncertain time for all churches.
St. John Farmersburg is a Lutheran church affiliated with the ELCA. All are welcome to worship with us at 10 AM each Sunday. We are yoked with St John Lutheran church in Luana. Our church has served Farmersburg and the surrounding communities since 1900.